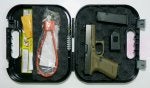 This Glock G19 is Rare, Desirable and Collectible for the following reasons:
1. Original Gen3 manufactured back in 2008. New In Box, unfired.
2. CALIFORNIA COMPLIANT. California does not allow American-made Glocks into the state, but this like-new
Austrian
-made pistol is completely legal/eligible for FFL transfer into CA. I sold the matching NIB Gen3 OD G26, to a California buyer a few days ago for $700.
3. OD Green frames were not common in 2008. I had to special order all three of my OD Glocks back then. From a collecting/rarity standpoint, you won't find another 2008 OD Gen3 in NIB unfired condition.
G19 Gen3 OD Green frame
SN: LHY6xx
Date of manufacture: 2008
Country of manufacture: Austria
Condition: NIB / New in box, unfired
Includes: Pistol, case, two 15rnd magazines, bore brush, standard sealed paperwork including original warranty card, two spent test casings, padlock.
I bought several Glocks when Obama was elected...just in case. I just put them in the gun safe and didn't shoot them. That's why they're NIB/unfired.
PRICE: $700 plus delivery
(my FFL ships to yours for
HALF
what UPS/FedEx charge)
If you want to offer me less, send me a Private Message explaining why this pistol is only worth what you're offering.