Discussion Starter
·
#1
·
Well, she finally got up the nerve to do it. A couple of weeks ago she went with me t a couple of USPSA matches and on the way leaving the range she mentioned it looked fun. Then to my suprise she said she wouldnt mind trying it out. I drove straight to Gander Mountain and bought her, he very own XD9 Service model. I had her fill out all the paperwork and everything so she would definately feel like it was hers, not one of mine that she was using.
She shot a practice match with it and did ok, shes very new to shooting. I was going to a 7 stage match 2 1/2 hours from home last sunday and she indicated she wanted to shoot HER gun too! here are the pics. She didnt place, in fact she came in last but she DID IT! She got up in front of everyone and proved that ANYONE can shoot a USPSA match and have fun doing so, no matter what the results.
Thanks to BOBERT for the pics!
Getting instruction before her first stage, a shoot house with several IPSC targets and lots of steel.
Here she goes...
Shooting a classifier...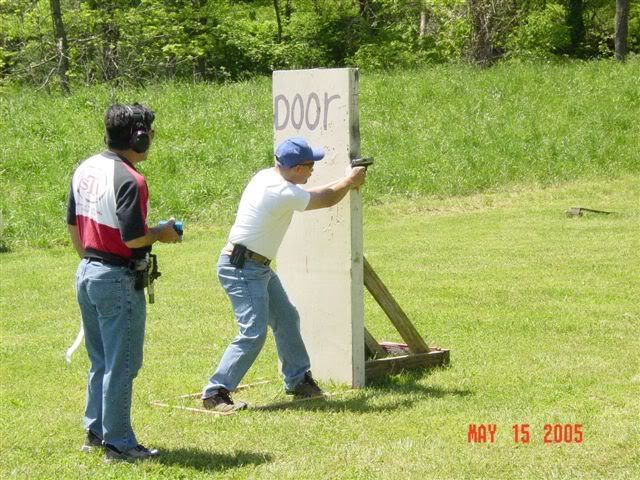 heres a pic of me shooting a classifier...
Find a club close to you and give it a try, normaly the people at the matches are as friendly and helpful as the people on this forum.
PS..She says to say thanks again for the magazine rental BoB!