Discussion Starter
·
#1
·
I recently purchased a set of the
SportEar Custom Edge 360
custom molded, in-ear hearing protection and I received them yesterday afternoon. They are not your typical ear protection though as they are made in the same manner as hearing aids and are completely programmable and re-programmable to fit a persons particular hearing.
As a disclaimer, I have no affiliation with this company other than being a new customer.
First, let's start off with why I got them.
After many years of loud noises I have suffered some serious hearing loss and have pretty bad tinnitus.
Here's my chart from the audiology test I took so they could program my Custom 360's. The same place also did my ear impressions so the Custom 360's could be made to fit my ears perfectly.
As you can see, I have hearing loss across the entire range, but it's particularly bad at the high frequencies. As a result, when I first put them in, everything sounded "tinny" to me. In reality, that's just the Custom 360's doing their thing and boosting the higher end frequencies to make up for my hearing loss. The more I wear them the more I realize how bad my hearing was at those frequencies.
Since I already have serious hearing loss, I don't need to lose any more. Like all electronic hearing protection, these clip any sound over 85 dB and provide 27 dB of hearing protection. According to the hearing aid companies I have talked to, normal hearing aids don't do that.
It's also worth noting that normal hearing aids start at about $2,500 PER EAR and go up from there. Since insurance doesn't cover hearing aids, that's a considerable out of pocket expense for almost anyone. The Custom 360's cost $2,700 a set. Water proofing costs an extra $500 as does a 3 year no-fault replacement plan. Since I'm a vet I got a deal and got everything for $3,000. That's a $2,000 savings over traditional hearing aids. To me that weighed heavily in their favor.
Second, they felt funny in my ears, but I've been assured that this is as normal as getting used to wearing glasses for the first time. Apparently it's true because the more I wear them the less I notice them. I've had them in for over 8 hours at a stretch and had no discomfort.
Next, do they actually work as advertised for ear protection?
I can happily report that they do. I clapped my hands as loud as I can (I have rather meaty paws, so I can clap REALLY loud if I try) and all I heard was a dull thump. My wife, however, had to cover her ears because the clapping sound hurt them. I also spent some time in the shop today and everything that was loud (hammers, table saw, circular saw, etc, was completely muffled as if I was wearing ear muffs. However, immediately after the sound ended, full hearing was instantly restored.
I haven't had a chance to do any shooting with them yet, but I'm confident they will work as advertised.
They also have multiple programs that I can access with the touch of a button.
Program 1 - Standard mode for normal hearing use with 85 dB cutoff. Good for everday use.
Program 2 - Enhanced mode with +3 dB enhancement
with
background noise suppression and 85 dB cutoff. Good for TV, Movies or meetings.
Program 3 - Max enhancement mode with +6 dB enhancement
without
background noise suppression and 85 dB cutoff. Good for hunting or very soft tv.
Program 4 - Max protection mode which is normal mode (prog 1) with 75 dB cutoff. Good for excessively loud noises and rapid gun shots. When I go the range I plan on using ear muffs as well since it's enclosed and gun shots are just that much louder. This program is also good when there are loud kids running around and you just can't handle the noise.
I've tried each mode and they all work as advertised.
I watched TV last night using program 2 and my wife never complained about the volume once. She hasn't done that in years.
Program 3 is so good that just typing this seems absurdly loud. I imagine this is how animals like deer and rabbits hear things.
If these had been available back when I was much younger, I'm guessing that I would have saved most of my hearing.
If these were standard issue to our troops, I can guarantee that there would be a LOT fewer hearing disability claims. I can also bet that the bad guys would hate them since our troops would be that much harder to sneak up on and our guys would be able to communicate much easier.
Bottom line, would I recommend them?
Yes.
They aren't cheap and I spent a long time talking to my wife about them and debating if I should spend the money, but they are working as advertised. They may or may not be as good as regular hearing aids and they aren't Bluetooth enabled like some of the modern hearing aids, but they do work well.
Customer service was also excellent. My sales rep even gave me his cell phone number in case I had questions after normal hours. They said it would take 4-6 weeks for delivery from the time they received my impressions and hearing test, but it was actually about 3 weeks.
Here's a picture of mine. They are color coded, red for right, blue for left. The wheel on top is on/off and volume. The button on the bottom is to choose the program 1 beep for program 1, 2 beeps for program 2, etc. The clear rod is so you can pull them out of your ear. The battery compartment is in the middle. Battery life is about 7-10 days of normal use (I'm guessing that means about 16 hours per day).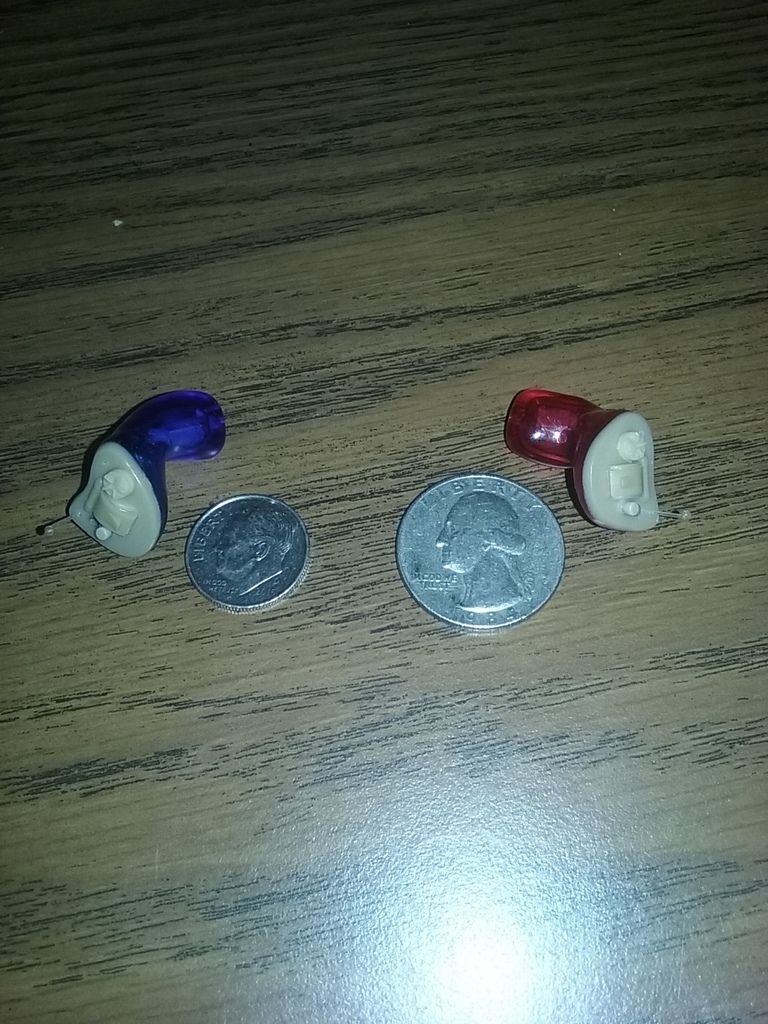 Anyway, I though I would share and I hope you find the information useful.