Discussion Starter
·
#1
·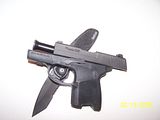 Sig Sauer's entry into the increasingly crowded pocket nine arena is interesting to say the least. The gun is as heavy as a g26 with the size profile of a pm9. The cost could get a consumer 2 pf9s and plenty of ammo to get acquainted with them. Taurus' pt709 and Rugers lc9 give the shooter's pinky refuge, so where does the p290 fit into this picture?
For starters, and I believe a feature that cannot be overlooked, the p290 runs! My example is the first gun I have bought that needed no break in, out of the box. I have put 250 rds through my Sig with no gun related malfs. On my second trip to range, she had 2 failure to feeds that I attribute to my larger hands contacting the mag release on the p290s smaller grip frame. While speaking about the smaller grip, Sig did an excellent job stippling the grip. I dare say the best factory stippling job I have encountered.
The p290 departs from the classic p series in that it does not have a traditional double action trigger system, no second strike capability. There are no manual safties, and the gun is in fact dao. Not remotely a bad idea for a pocket pistol, Sig fumbles this idea by delivering a truly BAD double action pull. It is gritty, though I will say, getting smoother with use. I don't bench rest guns, but even with the gritty trigger, hitting human sized silohuttes at 25 yards was easy, and in fact enjoyable. Did I mention that the p290 wieghs as much as a g26?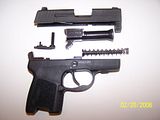 That wieght is concentrated in the slide and heavy flared barell. The p290 also comes with real tritium night sites, that make target acquistion with this pocket pistol as easy as using ones primary defensive handgun. Combining the shootability with the reliability mentioned earlier, I believe that Sig has a winner on its hands. I carry a Stoeger 8045 daily, and while the p290 will never replace it for edc, I will ankle/ pocket carry it as a bug.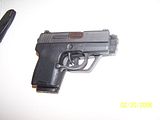 The grip is shorter than the pt709 slim (also keltec pf9, ruger sr9), a big plus for ankle carry. Also the slides are the same in thickness.