This was a project I did for a good friend, who is also a good hunting/shooting buddy. First a little history. The rifle is a decommissioned 1903 Enfield (sp?) .30-06 that has been in his family for 60+ years. The stock was not original, but is believed to have been built by his grandfather, who gave it to his father, who gave it to him. Over the 105 years of this rifle's life, it's accumulated some wear, but still shoots beautifully! The project started with him asking me to refinish the stock, as it was completely worn over about 60% of the rifle, with the remainder of the finish flaking. Some of the wood was also starting to show wear where the finish was worn off. There were a couple spots that needed more than just a new coat of varnish, so I suggested we add some walnut inlay to cover the rotten and cracked areas. He agreed it was a great idea and we decided $150 would cover the vine inlays on forend (both sides,) pistol grip (both sides,) and his family name inlayed on the left side of the gun, opposite the bolt. Then we re-blued it. Since the metal was still in pretty good shape, we didn't bother stripping it, just touch up and polish. Last step was to add a new recoil pad, and we actually found the same one that we had pulled off it, only brand new with a few updates. The brown/white/black matches the colors of the wood nicely. Finally got it back together last night and I'm proud to show you the results! He's excited to finally have his gun back!
Full view of the rifle and Mr. Braden's foot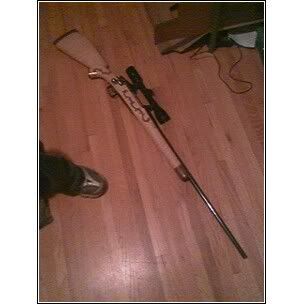 Close up of inlays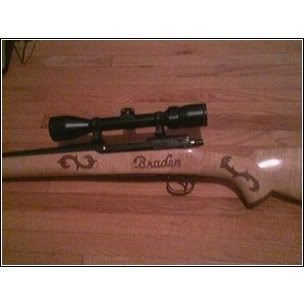 Happy customer
We were both kicking ourselves for not taking "before" pictures, but oh well
Thanks for looking!