Discussion Starter
·
#1
·
Well I decided to spend my memorial day with a bang and decided to go to the range and rent both BG38 and LCR today. My only experience with them a few days ago was a few dry fires at the same LGS/range that I went today shooting today. I should also mention im a southpaw.
My impressions before shooting, first with the LCR:
Likes:
-had a smoother trigger
-nice houge tamer grip gave more surface area to grip
Dislikes:
-cylinder release on the left, took a little more effort to push in with right thumb
-houge grip sticked to inside of pocket (want to use it as a pocket carry)
S&W BG 38
Likes:
-ambi cylinder release on the top where the hammer would be makes opening alot easier
-laser
Dislikes:
-trigger felt stagey and not as smooth as LCR
-small grip
-activating laser would be difficult in a stressful situation
I went away last friday thinking that the LCR would be the one for me, but the guy suggested that I shoot them first before buying either. I kinda lol on the inside cause I know they charge alot for their ammo for shooting their guns so I left and though about the LCR all weekend.
Well today at around 3:30pm i kinda decided "hell I'll shoot them today". I also took my xdm9, RIA 1911 and buckmark. Got to the range, picked up the LCR first (only allowed one gun at a time) and a box of 50 wadcutter 38spl for $25 which I expected but I wasn't their to complain about the price gouging.
I set up the target at 5yds, put the first 5rds center of mass, took my time with the shots and they were not that bad, 2-3 were a little to the right. Next 5 where shot faster and the spread was a little wide but not bad. Last 5 to the body were slow but just like the first a few were little to the right. The next 5 were head shots at 5yds and I noticed that POI was about 2in higher than the sights but still were hitting where I aimed, last 5 were headshots at 7yds and thats where I kinda dialed in to where to hold.
I was impressed with the LCR, did not think I would like a DOA wheel gun, although the plunger thingy for the spent casings seemed short and did not fully eject some of the casings.
LCR target at 5-7 yds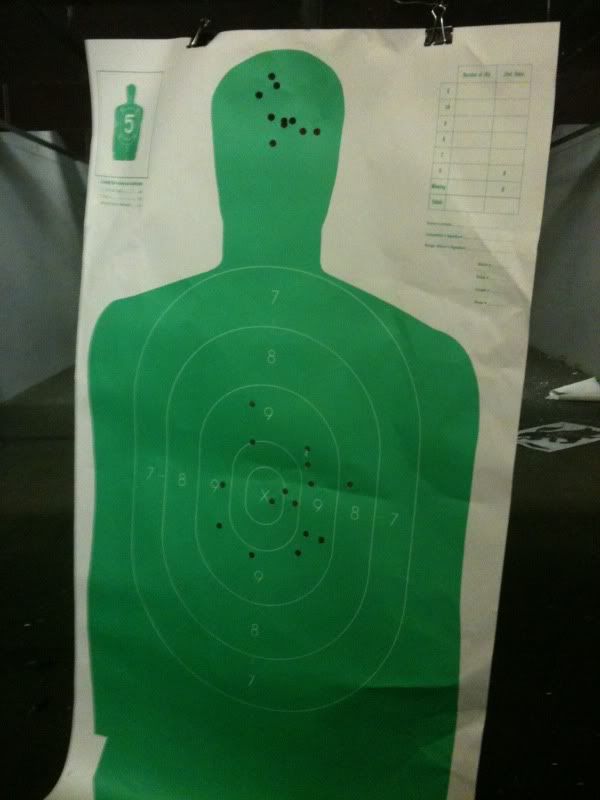 Next up was the BG38, now I though I would not like this one cause of the grip and trigger but I proved myself wrong. First 5 shots were to the body and it seems that they were pretty close, did another 5 rapid shots and though they were a little smaller group with a flyer at the bottom right. Next were 15 head shots from 5-7yds. I had noticed that the POI was a little higher than the LCR about 3in but was centered perfectly
I tried to used the laser but it was not dialed in, I did however try to use my left thumb to activate it which was a little difficult to find such a small button, but maybe with more practice I could get it down. I also notice that the stagey portion of the trigger close to the end of the pull kinda gave me a "slow down" signal as I was taking up the first portion of the long pull fast then I slowed down enough to get my trigger finger isolated from the rest of my hand so I don't jerk the trigger. I'd like better grips but I was surprised that I would like the BG38.
BG38 at 5-7 yds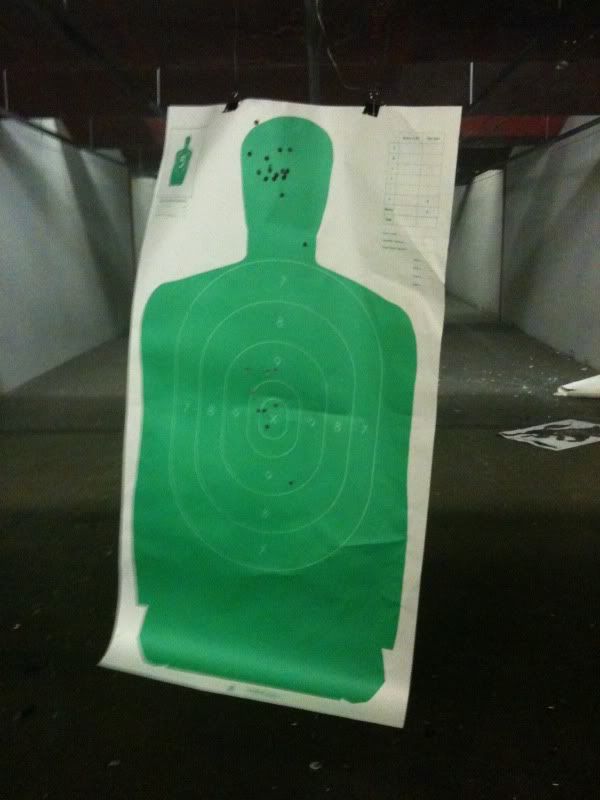 Cylinder release was easy to use and the longer plunger made ejecting easier. I did well with both IMO but I think I'm set on the BG38 cause of the ambi cylinder release, glad I spent the money now to try them out than to buy one and realized I don't like it.
Also found out that I should not hold a wheel gun like a semi-auto, now I wasn't at the gap between the barrel and cylinder, just about 1/2in back, but yeah better find a different thumb hold for the right hand. :shock: You can also see the BG38 body shots up close in this pic.
Did well with my RIA 1911 at 15yds with WIN PDX1 .45, fed all 20 rds well, need to get more though. Still shooting a little to the right though.
XDM9 did great at 7yds as I took my time, was aiming left of the red dot at the 9. After awhile though I think I was not concentrating on my trigger finger and started to jerk or push the gun before the bullet left the barrel.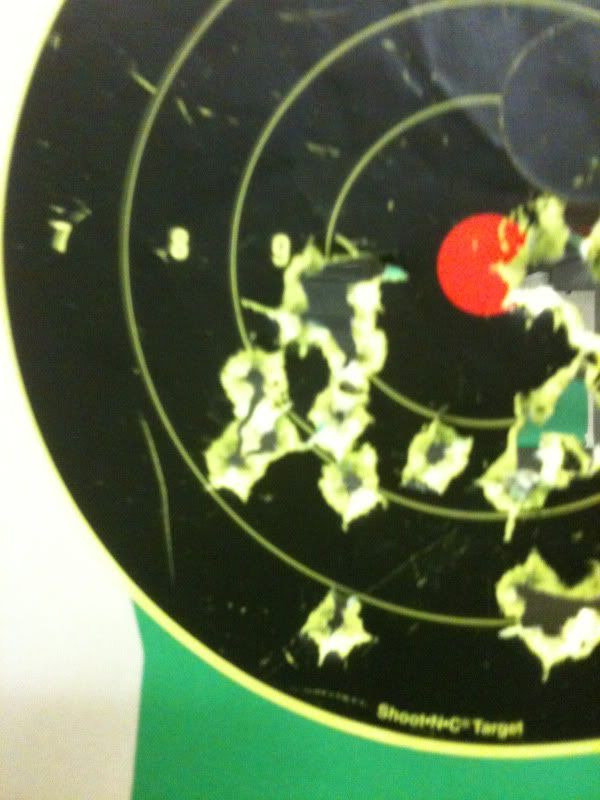 I had a good day at the range, now to get ready for a 2.5 day trip to CA tomorrow. Gonna drive a customers vehicle to another testing facility, going to hate LA traffic
.
PS. also like that I don't have to go chasing my spent brass with a revolver