Discussion Starter
•
#1
•
I got a Savage Model 11 Hog Hunter in 308 yesterday and took it to the range today.
My initial impressions are of a gun that was made with a budget in mind without being cheap crap, but also completely functional . Seeing as how I paid just $500.55 out the door, it is a rifle most people on a lower end budget can get.
It came with iron sights, which are very basic, but are workable. It also has an internal, blind magazine, which can make reloading a little awkward. However, it also comes with a medium weight, straight taper, 20", 1/10, threaded barrel and the Accutrigger. The stock is nothing special, just green plastic. However, the barrel is 100% free-floated and it would take serious effort to get the stock to actually touch the barrel. The trigger came preset from the factory to about 3 lbs.
Since the rear sight interfered with my scope, I decided to remove both sights. This is done by moving the sights out of the way and removing the hidden screw underneath. I then mounted my scope , added a bi-pod, sling and cheek rest.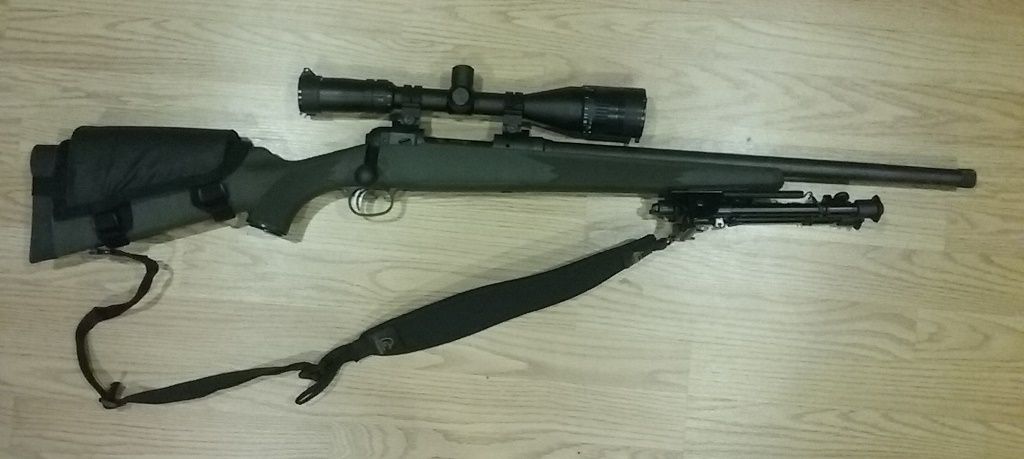 I purchased a box each of Federal 150gr softpoints, American Eagle 168gr OTM and Federal 180gr softpoints and headed to the range.
I started out by bore sighting and zeroing my rifle, then got down to shooting some 10 shot groups at 100 yds. The targets were printed off at home and have 1" squares. I never changed the aiming point or my zero between bullets, so the difference in impact is solely due to the bullets.
The 150gr bullets chronographed at 2,734 fps (2,490 ft/lbs) and managed a 4.25" group, however, removing the flyer brings that back to a 2.1" group.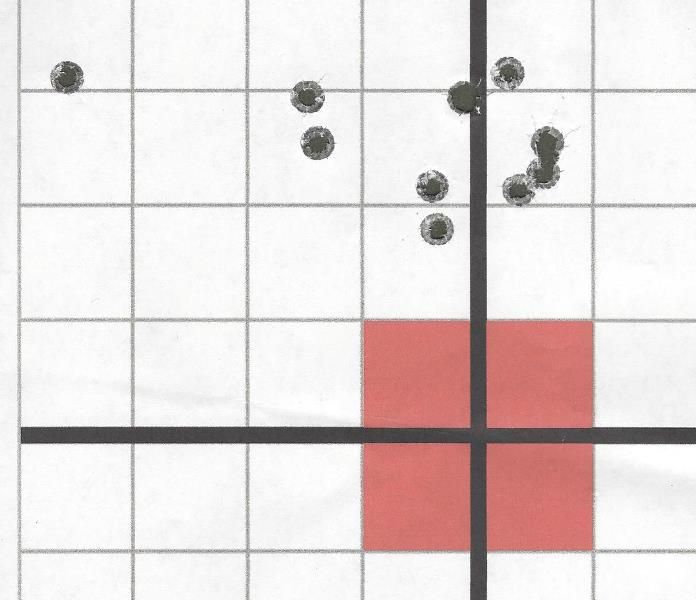 The 168gr bullets chronographed at 2,522 fps (2,373 ft/lbs) made a 3.43" group, but excluding the worst flyer brings that down to 2.1" group as well.
The 180gr bullets chronographed at 2,535 fps (2,569 ft/lbs) made a 1.5" group, but once we exclude the worst flyer brings it to a 1.2" group.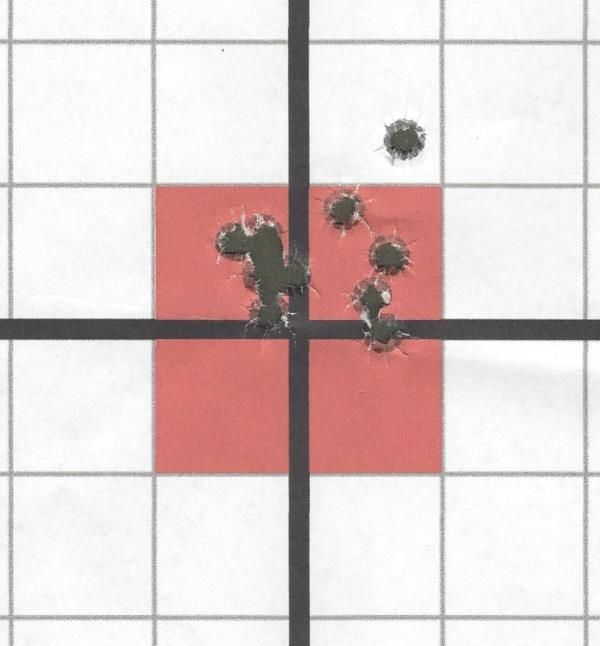 The winds were no more than 5 mph, so I can't blame anything on the wind. Some of this was undoubtedly me failing to do my part. However, with the 1/10 barrel, it is understandable that the 180gr bullets would do better since the 1/10 twist is best used with 170gr to 220 gr bullets
With a better stock and hand loads, not to mention more shooting practice for me, I'm sure this will be a sub-MOA gun.
I'm looking forward to working up a load for it and giving another range report.