Discussion Starter
·
#1
·
Damn these plastic things! I am a 1911 guy but I keep buying these things
Well, here is a range report of my 3.8" XDm-9 Compact: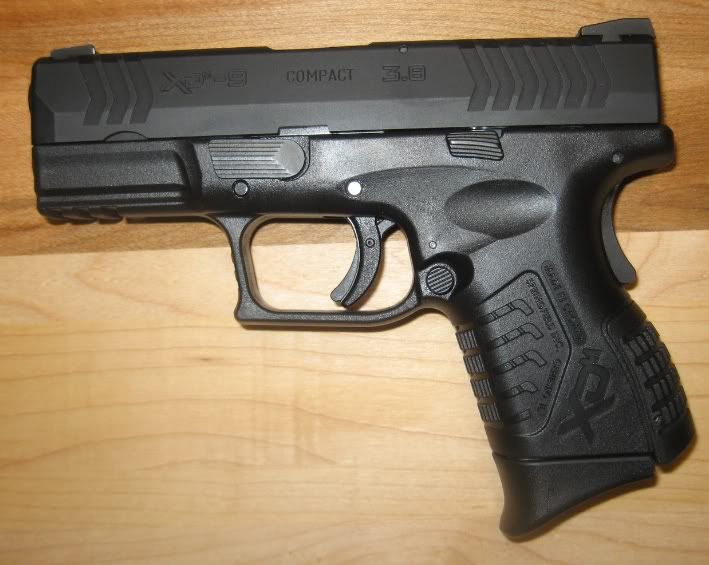 Before the first trip to the range, the first thing I did was put the largest back strap of the gun. I have the largest one on my XDm-45; so, I will definetly need it on the compact 9mm. Second, I bought extra mags before my trip to the range; I had to order them from Springfield because the model was so new no one had them yet. I had four 13 round compact mags and two 19 round mags with the X-tension sleeves on them and after loading the mags three times and one round in the pipe each time I went through 273 rounds first time out. A whole mix of ammo Magtech 115gr. FMJs, Magtech Guardian Gold 124gr JHP+Ps, Fiocchi Extrema 124 grain XTP loads, some Federal 147 FMJs, some random LSWC stuff I had on hand.
It never missed a beat, never jammed once. I was surprised because even my beretta won't feed the LSWC stuff 100%
The recoil is quite similar between +P 9mm and standard pressure ammo with no real appreciative difference between the two. I think the wide grip spreads the recoil over a larger area and the stiff recoil spring helped a lot!
Here's a the group of my XDm-9 Compact at 14 yards with the Fiocchi XTP loads:
I think its going to be my concealment gun for when I have to wear dress clothes (which is often). Oh, also, the Melonite finish is super tough. The first holster I had for it left about a inch of the slide exposed (muzzle end) and it rubbed on a rivet on my jeans for 6 hours! I took it off for the night to see a huge brass colored smudge on my brand new gun. With some hoppe's and an iosso brush it came right off like it never happened!
Any questions, just ask.