Discussion Starter
•
#1
•
After sending Rich an email inquiring on a time table and posible due date I came home to see it had already arrived. I dry fired it a little and i have to say I that while I liked the trigger before I love it now.
I figured that since it was going to be in for some work I might as well get the small parts in the frame refinished. I had a rather nasty spot of rust on the mag release.
<strike>So I'll see if I can get the before pictures up. . . shortly. I'll have the after pictures up probably on sunday.</strike>
Eta: the before pictures are up.
Before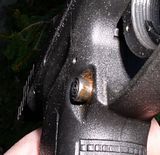 The Detail shot of the mag release.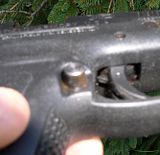 Another view