Discussion Starter
·
#1
·
Well...being a big fan of FN I decided to trade in the Ruger SP101 I couldn't hit the broad side of a barn with and get something else.
I landed up getting a stainless/black FNX-9 to go along side my XDM 9. (sorry for the crummy picture phone pic)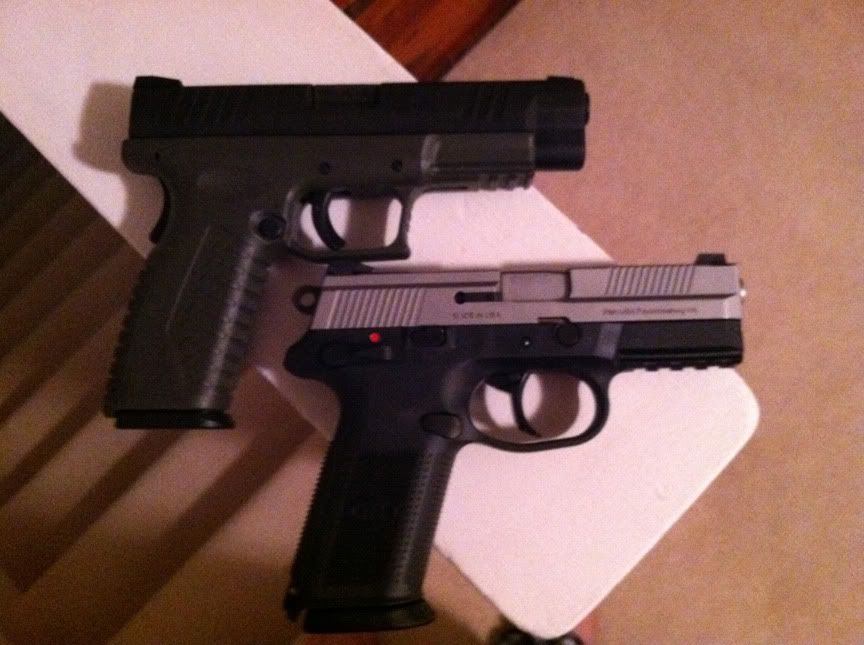 At first I thought it might have been a mistake getting another 9mm but after spending some time with it this week, I think I made the right choice after all. I'm the type of guy that once I buy a new caliber, I need to instantly stock up on it thus costing me a fortune...I have plenty of 9mm so this didn't happen...
I have to say the physical difference between the XDm and FNX is gigantic. Coming in at just around 12oz less, the FN feels like its in a different category. It actually makes the XD feel like a "fighting pistol" in comparison. Funny enough, the frame of the FN is actually larger...all of the unloaded weight difference comes from the slide. The difference between the two is huge...the XDm feels like a paper weight compared to the lightweight FN slide.
I was nearly convinced that the FN was superior until I took it out.
This week I've managed to run 200 rounds through it and I have to say it is seriously going to take some getting used to. It becomes 100% apparent the second you pull that trigger that this firearm weighs so much less than the XD. Where the XD feels planted and controllable, the FN feels "whippy" and borderline out of control. Recoil is nowhere near stout but the gun simply feels like it wants to come free from your hands every time you pull the trigger. My ability to .5"-1" double tap @ 20' with the XD is gone with the FN. I found my first shot would be dead on with the second being off in left (or right) field somewhere. I think this also has something to do with the fact that single action on this pistol is touchy...big time. The whip of the pistol and touch of the trigger makes it super easy to pop of another round before you've had a chance to correct the pistol or even let gravity do its job. With the hammer back the FN does have a "two-stage'ish" trigger with a clean pull and break...cleaner than what the XDm has in my opinion.
Slow, one at a time shooting is as accurate as my XD. I could group 1" with the occasional stray @ 20', 1.5" @ 10yds and 2" @ 20yds. Again, the touchy trigger would get me sometimes. I'm no super marksman but the gun shot where I pointed it...when I took my time. I rarely shoot pistol at 20yds so my grouping was mediocre and I do not blame this one the pistol in the slightest.
At this point in my XDm ownership (3000 rounds)...I can darn near do the "point and shoot" with it...I really don't use the sights nearly as much as I used to. I simply know where the gun's going to shoot. Rarely does a shot go much more than 2" past where I think it will (and that's a rarity anymore). Grouping with e XDm seems rather simple once you spend some time with it...for the time being, the FN is another story though. It makes me feel like a novice again with the "Huh...didn't think I was aiming that far off when I pulled the trigger" thought popping into my mind occasionally. I can easily say that even when my XDm was new (and new to me), I never shot this poorly with it...again, I do not fault the FN for that though.
Simply put, at the moment I CANNOT double tap with this thing or draw and fire...I find it to be a good challenge and will spend lots-o-time with it this summer trying to fix that. It is just that much more difficult to shoot than the XDm.
I have some friends that are just now getting into pistol shooting and I can tell you 100%, not a single one of them enjoyed the FNX...none of them could consistently shoot that thing even when taking their time. Time and time again it was handed back to me with a "Man, I don't like that...I'm shooting all over the place with that thing!" comment. I fully understand that feeling, I used to be like that when I first started shooting some 20+ years ago. I've now learned to give guns more time so I can adjust...they just haven't got to that point yet.
I can't make up my mind if this is bad design or different design...if I had to guess I would say it is different design. The lightweight package and touchy trigger make for strange bedfellows. I would easily consider this an "advanced" firearm and sometimes I consider ease of use to be "better" design. Anyone can make something that's hard to use...not everyone can make something that's easy yet functional. A friend of mine was considering this pistol as well as the XDm for his first firearm...I easily told him I would suggest he'd look at the XDm. The FNX is not for beginners...at least not in my opinion.
Either way this is a well built firearm. The light weight, clean trigger and 17 round capacity make it a great package for what it costs (basically the same as the XDm depending on where you look). As for ergonomics, due to my having meaty hands the safety did force me to change my grip tucking it lower down under the overlapping left hand. My usual "right hand high thumb" did not feel comfortable with the FN...darn thing kept cracking me on the knuckle. A small hand adjustment did fix that though...no problems after that. It does come with 4 back-straps and this does help as well (1 each S and M checkered, 1 each S and M ribbed) . That was also one of the reasons why I bought the XDm, one size fits all back-straps of polymer guns really turned me off to them for years. Being able to change that out is great. The aggressive checkering on the grip is also welcome and grips gloves like glue...that part is FAR better than what the XDm offers (and funny enough the XDm is WAY better than what Glock offers, what does that tell you about the FN?). On a side note, all three included magazines worked flawlessly although I wish they had a loader like my SA, those things are a bear to load much after 14 rounds.
I'm still glad I purchased the FN. I was getting "ho-hum, another great group" with the XDm and this gun is a new challenge. For anyone looking at these, I say it is a pretty solid firearm be it 180 degrees different from what the XDm offers.