Discussion Starter
·
#1
·
The backstory (skip down to pics if you just want to see my new toy):
As some know, my job is an industrial distribution sales rep, we sell everything from safety to machinery, consumables, tools....pretty much anything you may need for production and manufacturing facilities.
Well, I was at a customer earlier this week, and saw something in their tool crib, asked them where they got it and they told me which of my competitor sold them. Being a good salesman, I went back to the office to try and find out more about them and to see if we could get them from the manufacturer and resell to the customer at a lower price. Well that didn't pan out, but these things were too cool. So I bought one of each from my competitor (oh well...lol)
well...here they are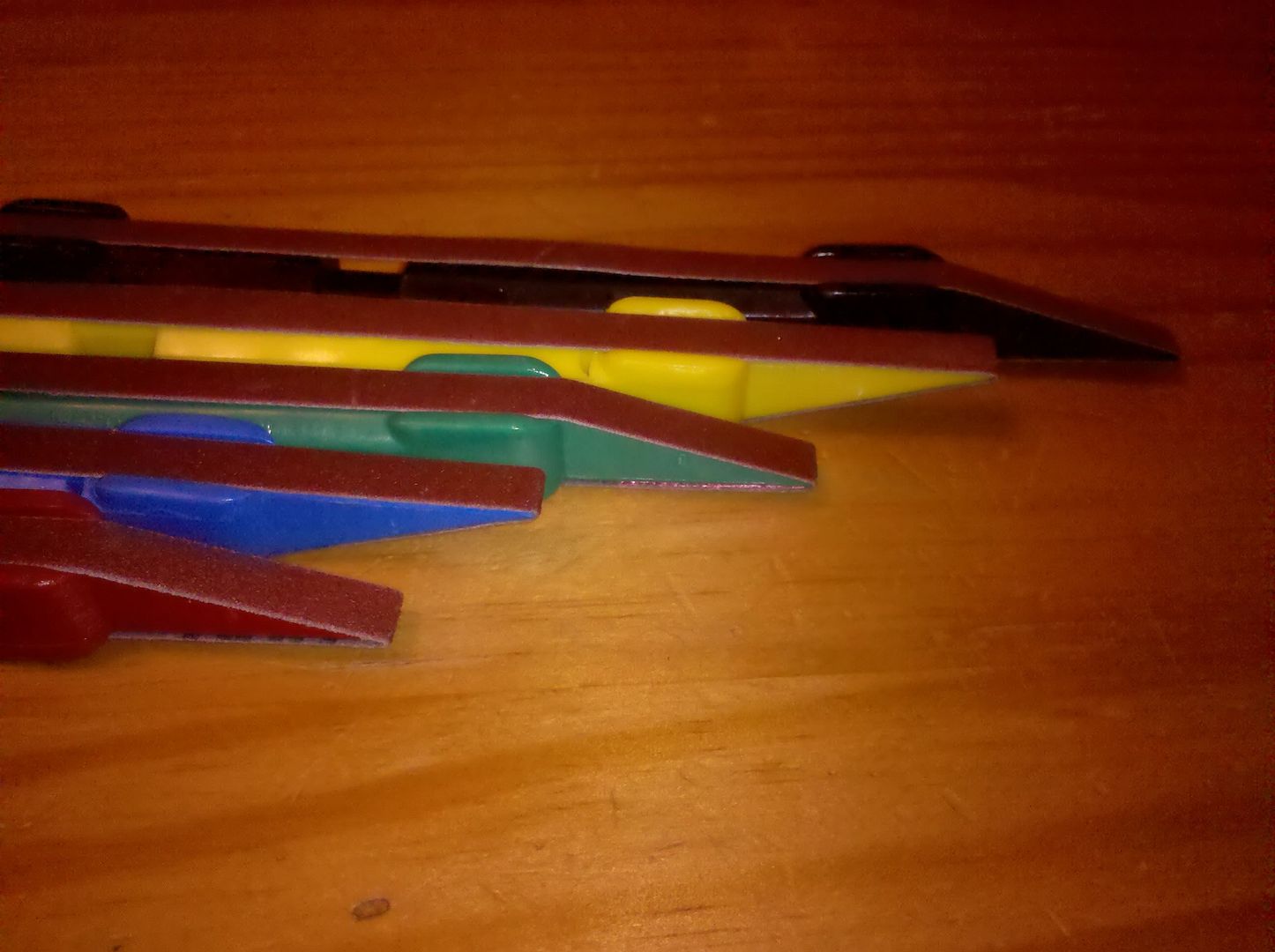 red one showed up close here
What are they? They are spring loaded sanding belt holders used to polish dies and deburr parts. They are available in 5 different grits and a few different widths and lengths. Shown above is the ones I bought, 6" long and 1/4" wide belt seemed good for detail work, especially on small gun parts.
They are tapered wedge on one side and radiused in the other. When you wear out a spot on the belt, you just rotate it for fresh abrasive.
Black = 600 grit
Yellow = 400 grit
Green = 320 grit
Blue = 240 grit
Red = 120 grit
Review:
Multiple surfaces and angles to get into little nooks and crannies.
The plastic has lots of flash and burrs, and could be better.
Each handle is colored for identification, but is not labeled for grit (I labeled them with a scribe)
Belts are available as replacements as well
all in all though @ 3 bucks a piece I really cant complain
cost for all 5 shipped and taxed was around 24 bucks
since we cant sell them, here is a link to my competitors page......boo hisss....lmao (too bad I don't get commission for the sales they are about to get from everyone here.....)
link to sanding sticks here