Discussion Starter
·
#1
·
I finally finished all the modifications to my Glock 34 I've been working on for the past month or so.
First, I started with a stock Glock 34 and did the following:
Trigger undercut modification, removing enough of it to make it easier for me to grip it with my XXL sized hands, plus getting me a higher grip, thanks to the Glock Gen 4 large beavertail backstrap. I also removed the finger grooves.
Then, I added/swapped out the following:
Replaced magazine release with ZevTech's extended mag release. Wow, what an improvement. The OEM mag release that came with my Glock as is simply stunk.
Replaced trigger group with ZevTech's ultimate trigger package. I have not adjusted trigger travel. I'd like to give it a good number of rounds down range before I tinker with it, but I've been told to do it and it will make a big difference. I have the 3# striker spring in it, though with the skelonized Zev striker, I may go to 2#.
I replaced the slide release with the Vicker's release. Well done and just enough of a mod to make a difference. The OEM extended release was not for me. I hit it too often when gripping it.
Surprisingly, at least to me, I am very pleased with the grip tape I put completely around the hand grip, and on the underside of the trigger guard. I bought it from Amazon,
link here
, and was able to cut it just as I wanted. I used a hair dryer set on super-hot to basically fuze it on to the Glock. Worked very, very well and feels great. I like Talon Grips, have use them before, but I wanted to be able to do more of a custom fit for my needs. Some may think it is ugly, but it feels great.
I purchased a Storm Lake threaded barrel and it fits perfectly, very well made. Yes, I am planning on obtaining a suppresor once I figure out precisely what I want.
I added a Trijicon RMR-02 and have been doing a ton of dry firing getting used to it. I know it is going to be great for my eyesight. I had LASIK a few years ago and my right eye, dominant eye, is my long distance eye, with 20/10 in it. Great for long distance, but makes getting the front post in focus a bit difficult.
I went ahead and purchased a milled G34 slide with Trijicon suppressor sights, night sights, from One Source Tactical. They did a fabulous job, turned it around in less than two weeks.
I had a Streamight TLR on it, but decided to go with a Surefire X300 after watching a number of reviews on the light. I'll put the Streamlight on my G19, which I use for EDC.
My magazines for my Glock 34 have Arredondo extensions on them and I bought them with the Wolf +10 springs for greater reliability. It's fun to have 23 rounds on board at any time.
Dawson Precision makes magwells that fit specifically on Glock Gen 4s using large backstraps and I ordered one. They make them to order and I was very impressed by the workmanship and customer service from them. It is rock solid on the grip frame and really does make a difference with fast reloading. Plus, the magwell serves as a "shelf" for my large hands, making shooting the Glock even more comfortable and steady.
Glock haters will, no doubt, ridicule anyone spending as much as I have to customize their Glock, but ... hey ... I'm a Glock guy, and haters be hating.
This is my Glock, there are many like, but this one is mine.
So, there you have it and here is a picture.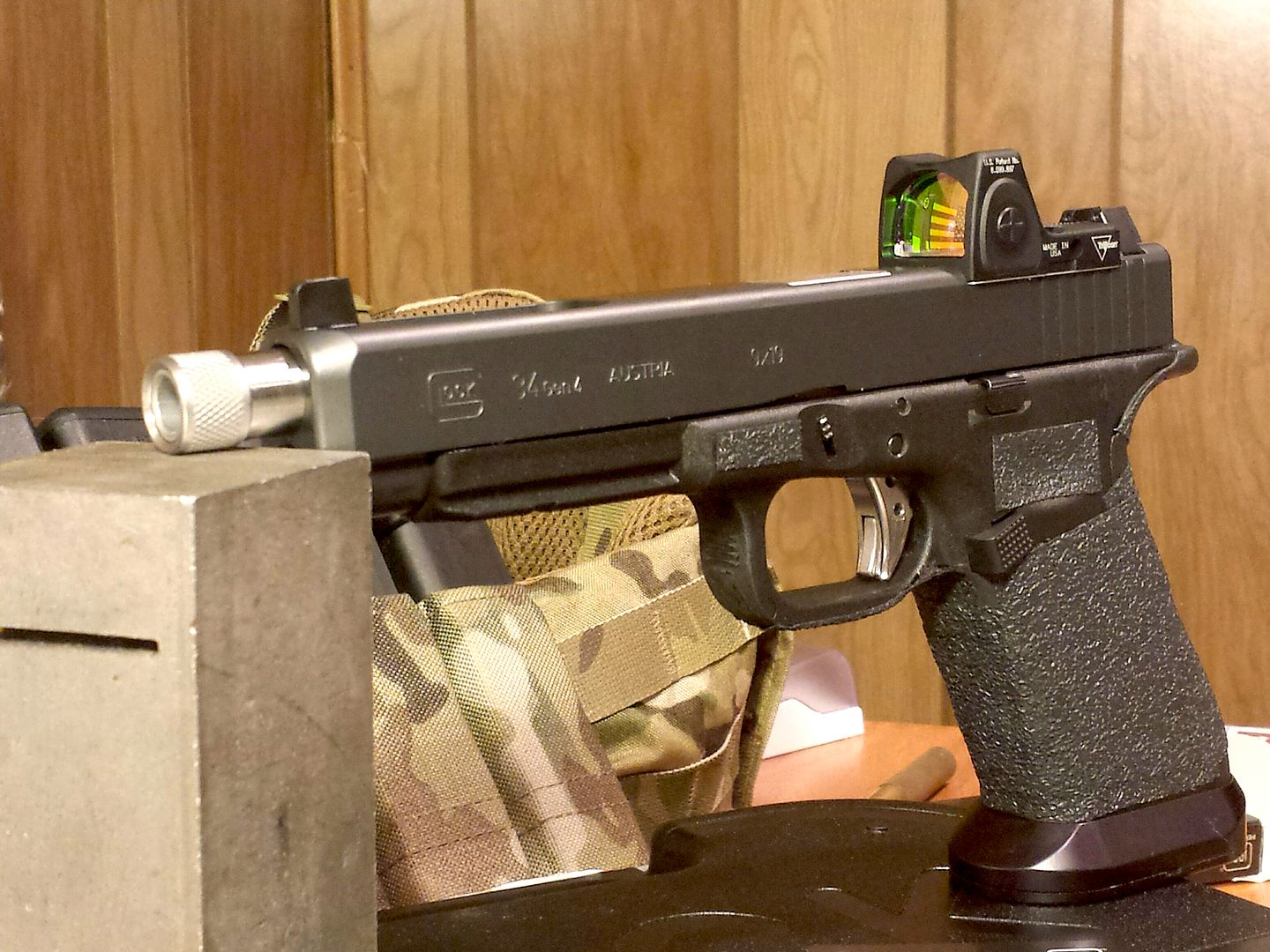 Dedicated to Snappy, my bestest buddy on XDTalks. XOXO, Snappy!