Discussion Starter
•
#1
•
Just picked this up... for FREE!! (from my old man)
I don't know much about ARs yet, but I had been planning on building or buying one eventually. I couldn't pass up this deal. I know it's pretty old and it's a Colt, but I don't know much else yet. I just got it home and plan to do some looking around now.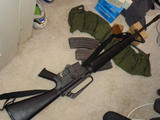 Most of the ammo is pretty old too but I'm guessing it'll still shoot.
Feel free to give any input on it and things that I should plan or look out for. I'm going to start educating myself now.