Discussion Starter
·
#1
·
Well, I finally went and did it! After loading for my rifle only for 3+ years I finally got around to loading for the pistols. Worked out a deal with my buddy: His dies, his powder, primers, bullets. My brass, my time at my press. We split 100 rounds for each caliber. Sweet!
.45 ACP: Hornady 200gr. XTP/HP, 6.3gr. Unique.
Recoil was very pleasant through both my XD and my buddy's 4" Kimber, even though it's only .2gr. below the Lyman Manual's max suggested load. This load also showed way more potential accuracy than I'm currently capable of...
this was 10 shots on an 8" target at 12 yds. I don't get to shoot near as much as I like, so I'm pretty pleased with this grouping.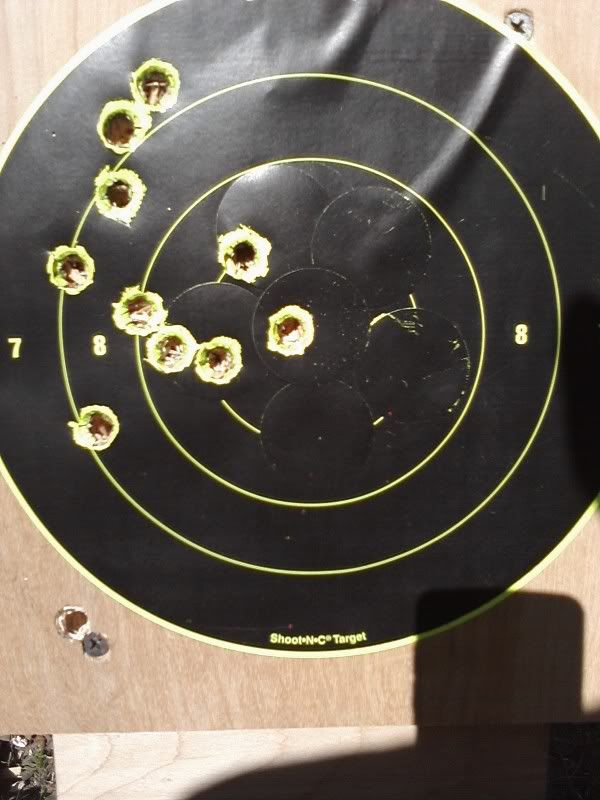 .357 mag: Hornady 125gr. XTP/HP, 9.5gr. Unique.
I really didn't want to use Unique for the .357 loads. Seemed to my limited experience that it's too fast burning for .357, creating a fairly high pressure/low velocity round. But... It's what was on hand so I found a recipe in Lyman. Recoil not bad, dunno about velocity. Pleased with 12 yd. accuracy, can't say the same for 25 yds, but then again it was getting later in the day, I was tired, and I'm fairly out of practice.
6 shots on 8" target at 12 yds. Again, not too shabby for my ability.