Discussion Starter
·
#1
·
Lacking a digital camera, all I can provide are s#itty pics from my cel phone. I got this rifle from a relative who passed away a couple years ago. It works, I know that much, only put 12 rounds through it since I've owned it, but at least I know that it works. Aside from that, I have no idea what it is. It is a 7mm Mauser (7x57mm) by the way.
The rifle appears to be a service rifle of some sort, that's my guess. It has a steel plate on the end of the buttstock instead of plastic, plain wood, or rubber like you'd expect a sporting rifle to have, 2 sling mounts at the front and rear of the stock, elevation adjustable rear sights, and the whole thing seems to be dinged up pretty good like it's seen some action, not just regular wear 'n tear. Both the metal and wood surfaces seem to have been patched/repaired at least once in its lifetime (nothing serious) and also seems to have had a new finish applied to the wood years ago. Portions of the metal (barrel, receiver, underbody, etc.) seem to have been re-blued in patches, definitely an amateur job. It has "1927" stamped on the bottom, so I assume that's the year of manufacture? There are no symbols or other markings that give me any clus as to the country of manufacture.
Of course, the crappy cel phone pictures barely show any of what I'm describing, but I added some infromation to each picture that might help.
I took pictures of everything that I thought might be identifiable or helpful in any way, including any numbers I found.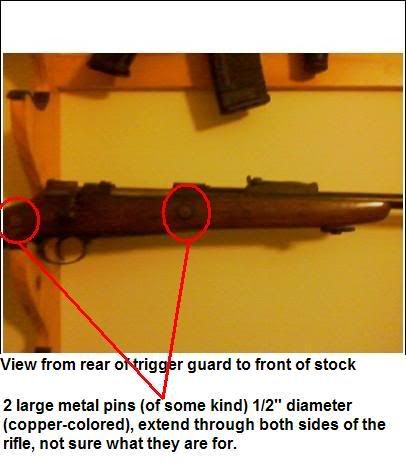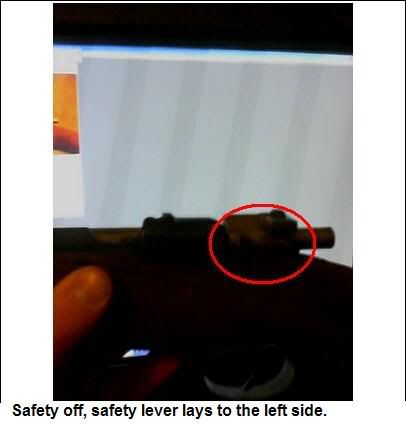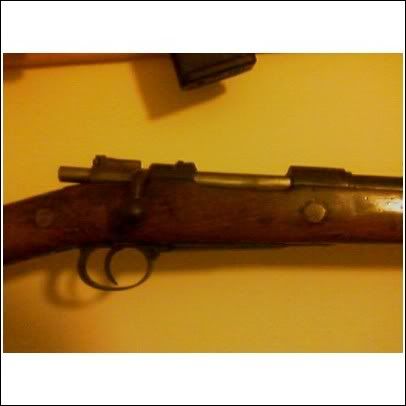 Any help would be appreciated, I'd really just like to know what I have.
Thanks!