The gunsmithing parts bin needs cleaned out. I have a ton of random gun parts and pieces available.
AR15-
-Bushmaster Carry Handle w/ Eurolux 4x20 sight (As New, $100),
-Magpul labeled hex screws x8 (New, $10),
-Spikes AR CAR-1 fake silencer can (1/2"x28 with alignment shim kit (As New, $35)
-SOLD - A2 grip (black) w/ DPMS single stage trigger kit and trigger guard (New, $25)
Remington 870 -
-Trigger system Lock/key (New, $15)
-Remington Choke Upgrade Kit ... includes 2 chokes (1 Imp. Cyl., 1 Full Choke Steel/Lead), field size RemOil, Remington choke tool, and case (New, $15)
-Remington 3 round Magazine Limiter (required in some states for hunting...FL) (New, $5)
-Leupold Universal Sling Ring Kit (New, $5)
1911-
-SOLD - 1911 Novak Adjustable Target Sight Front/Rear Set (never installed, $30)
-SOLD - Colt slide stop/release blued (used, $10)
-SOLD - HKS Speed Loader (As New, $5)
-Kimber 1911 slide stop/release stainless (As New in box, $15),
-Wilson Combat 2-Piece Full Length Guide Rod Officers Model part# 25CO (As New in box, $30)
-Colt Factory Stainless/polished grip screws (as new, $5)
HK USP-
-USP9/40 Jet Funnel kit (2xAvailable, As New, $55/kit),
-SOLD - USP LE/Military 18rnd Ext Mags (3xAvailable, As New, $40/each),
-HK MKII UTL Tactical Light (New, $135) ...NOT PICTURED,
-SOLD - SureFire C123 Batteries x2 (new, $5)
GLOCK-
-SOLD - Glock factory front/rear sight set (1 set available, new rear/used front but good cond. $5/set),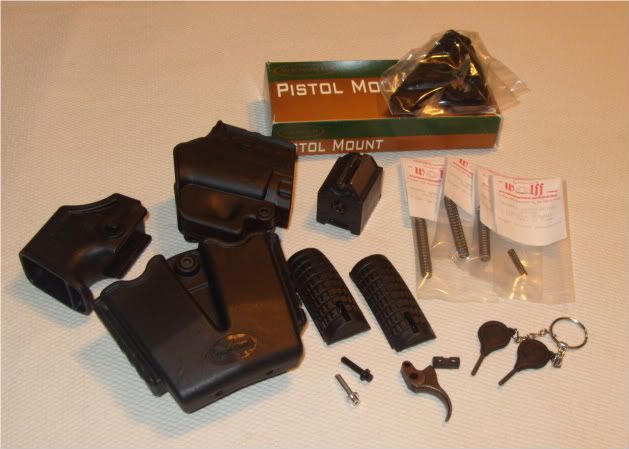 XD/XDm-
-Factory XDM 9/40 Backstraps (pair of Large/Small, New, $20),
-Factory XDGear Kit for XD45 (holster, mag loader, mag holster) (As New, $35)
-SOLD - XD 9/40 Striker Guide (1 Stainless aftermarket, 1 XD factory black, used, $5 for both)
Ruger -
-SOLD - 10/22 Factory 10 round Mag (black, used, $10)
-Ruger SP101 Wolff Spring Upgrade Kit (New, $10),
-Ruger Single-Six Weaver scope mount kit (As New, $10)
SIG -
-SOLD - Factory P220/P245 Slimline Short Pull Trigger Upgrade and factory double-dot rear sight (As new, $20)
Taurus -
-Taurus revolver security keys (New, $5)
Holsters (etc.)
-Mike's Full frame pistol black canvas holster (1911, Glock, XD, etc, As New, $10)
-SOLD - Mike's Sidekick FDE Cloth pocket pistol holster (small 1911/.380, Kel-tec, etc., used, $10),
-Blackhawk Serpa paddle attachment (As new, $5),
-Single Pistol Plastic case ($10) NOT PICTURED
MOSIN NAGANT-
-DuraCoated Bayonet, bolt take-down tool, oil can (black, $35),
-factory sling green ($5)
Other random parts/pieces...
-MilSpec Tall OD Bag (Mil issue surplus, $10) NOT PICTURED,
-Springfield Armory "Flag" Embroidered Patch and matching "Flag" sticker (approx 3x5", 4 sets available, New, $6/set)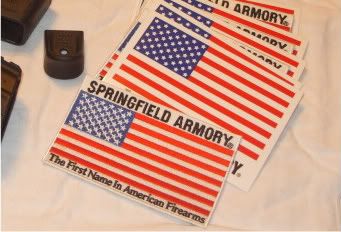 PLEASE email me directly.
[email protected]
(do not pm) Thanks and have a great day!
----