Discussion Starter
·
#1
·
Picked up a XD45Tac, my first XD. Put a couple of hundred rounds through it, great shooter.
Put in a PRP Ultimate trigger, better than stock. The only thing I didn't like about the stock trigger was the long pull and long reset so this pretty much took care of that although I don't think it's a "must have" based on the price of the trigger kit.
I'm used to my SA 1911 TRP and Glock triggers. The TPR has a stock match grade 4.5 trigger so it's tough to be beat no matter what.
The Glocks reset shorter in stock trim then the XD and much more pronounced feel in trigger and audible when it resets. The XD is lighter feeling and quieter when it resets. Not bad, but different than my Glocks and I will have to get used to it, like you have to with any new gun.
Accuracy is surprisingly close to that of my TRP for about 1/3 the price. For it's intended use (IDPA ESP), it will do great with 125k PF rounds. 5" gun with light loads, doesn't get any easier than that.
Picked up a Bladetech Nano IWB holster, same as I have for my other IDPA guns.
The XD and TRP eat SWC rounds all day long, the Glocks won't shoot them.
The rib, for lack of the actual term, in the middle of the rear of the slide is flat on the XD and TRP and the Glocks have a ramp near the front of it that pushes the rounds down as the slide goes to the rear. Not sure that is what gets hung up on the SWC rounds but both the G30 and G36 do the same thing with SWC rounds so they get ball or rn.
Here is a pic of the XD slide (top) and Glock (bottom)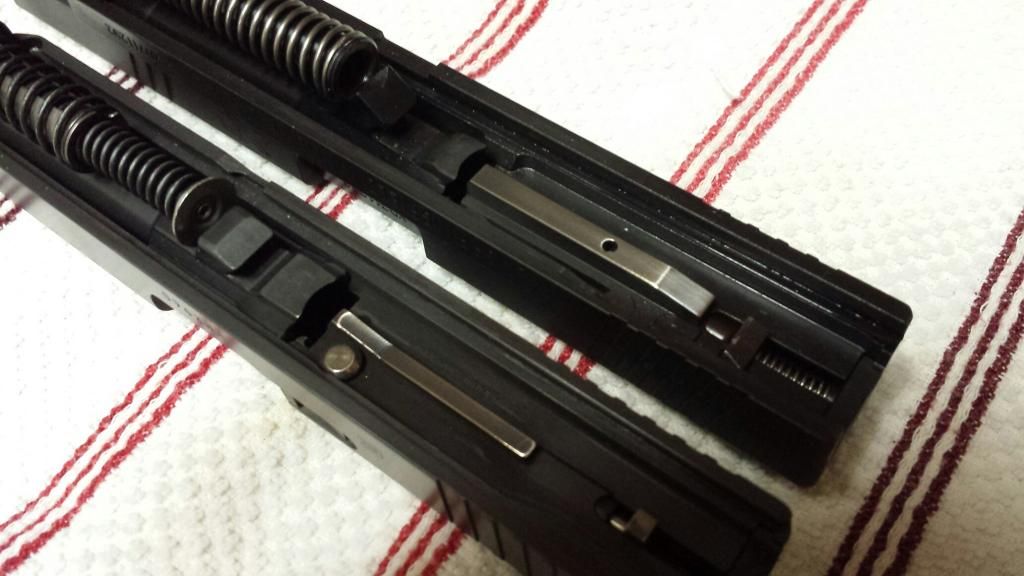 Here is a pic with the XD, TRP, G30, G36