Discussion Starter
·
#1
·
Here is how my journey to the Croatian Brotherhood started:
When I was in the Marines back in the '60s, I fell in love with the Colt 1911 .45 ACP. It was rugged, powerful, heavy, and reliable under less than optimum conditions. During the early 70s, I bought a Colt series 70 in.45 ACP and began my IPSC shooting career of almost 2 decades. During this time, the 1911 ruled in the IPSC world and I wouldn't even consider any pistol other than a 1911 in .45 ACP. Indeed, until last month I only owned 6 different 1911s and six S&W revolvers.
Then a couple of things happened and I began my quest for a quality, striker fired, "hi cap" pistol. I went to the local gun shop with every intention of buying a Glock or two. The salesman asked what I normally carried and I told him that I had rarely shot anything other than a 1911.
He pulled a G17 out and laid it on the counter and told me to close my eyes, pick up the Glock and bring it up in my normal two handed Isosceles hold, then open my eyes. Wow, I saw the entire top surface of the slide! I would've shot way high! I did this several times with the same disappointing results. Then he laid a different pistol on the counter and had me repeat the drill. What a difference! The front sight post was right where it was supposed to be, aligned in, and even with the top of the rear sight! Plus it just felt "right" in my hand, where the Glock just "didn't". Of course the mystery pistol was a 4.5" 9mm XD(m). I bought it and another in .45 ACP. I found this forum and joined so I could lurk until I was able to post a range report.
Sorry about the shadows, I had to wait until late in the day or risk melting my two new polymer frames.
This summer has been brutal, even by SE Texas standards!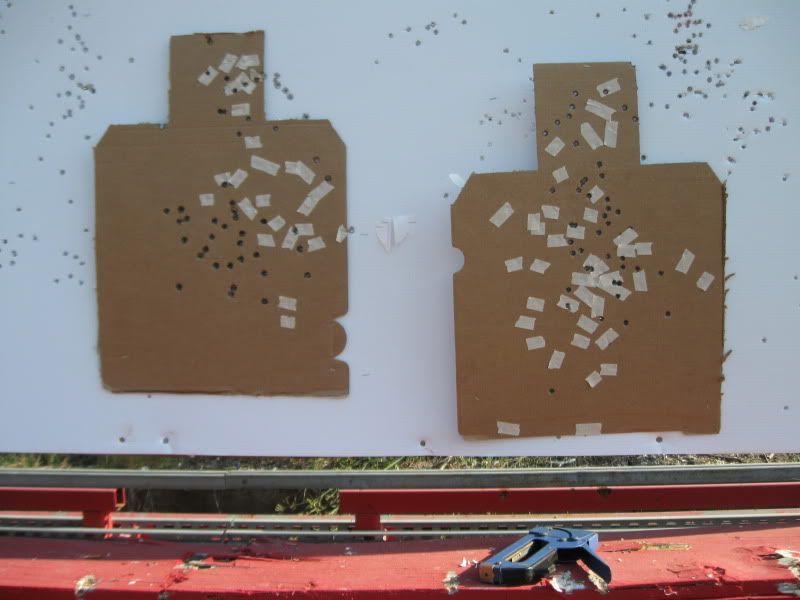 The target on your left was shot with the .45 XD(m). As you can see, The pistol was shooting to the right initially, so I had to move my rear sight. Thanks to lurking here, I brought a 2# ball peen hammer and a brass bar with me to the range. You guys were right, those sights are really tight in that dovetail!
Most all of the shots were double taps from concealment, with an occasional third head shot at ten yards. All in all, I fired about 150-200 rounds through each pistol, of course the pistols performed flawlessly even with my cast bullet handloads. I did fire a precious few of the Federal HSTs through each one also, for a function test and they gobbled them up too.
For some reason, I shot the 9mm much better, my double taps were faster and more accurate and there again, the 9mm just felt better in my hand. For the foreseeable future I will continue to CCW my 1911 LW Commander in .45 ACP and continue practicing with my XD(m)s until I feel comfortable enough to transition to CCWing one of them.
Anyway, that's my story and I'm stickin' to it. Hello from sizzlin' SE Texas. Looking forward to hanging around here and learning more about my two new babies from you guys! Spooner.