Discussion Starter
·
#21
·
Ya, my 1911 knowledge lacks any experience.
Me too brother..
I just recently starting learning about them myself..
12 months ago I didn't know what a barrel bushing was (although the EMP doesn't have one) or how to even field strip a 1911.
Now I can take one apart down to the frame in less than 3 minutes with a single pin punch and a driver to remove the grip screws..
These are truly the easiest guns to take apart and put back together I've ever owned..
Last weekend I installed a Harrison trigger (smooth face and black) and a single side Ed Brown thumb saftey.
Did it myself...
Before..
After..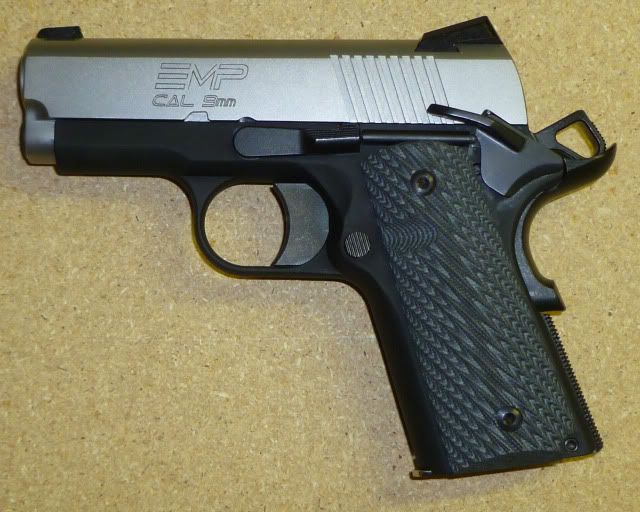 The Internet is a wonderful learning tool for my firearms knowledge..
my thoughts exactly, sure wish i could stumble across about a grand. anyone know any good places/prices to find this thing?
Well, I had to sell two pistols to buy the Kimber.
Then I had to sell the Kimber to buy the EMP..
Last year I couldn't find a 9mm EMP for under $1300 anywhere, so I bought the Kimber CDP Ultra.
Great pistol and no problems, but the EMP fits in my grip better and also has the SA warranty.
I picked up the EMP, with the G-10 grips, for $1095.
They had the rosewood gripped EMPs marked at $1295.
I think they had them backwards.
But I do like the G-10 grips over the wood..
I'm researching refinishers to redo the slide, I want the gun all black.
Probably have CCR Cerahide it, or let SA do it in the next month or two.