I should add to that, the very few stock Glock's I have seen malfunction, were proven to be either ammunition related, and / or limp wristing.... No fault of the gun.
Glocks aren't magical....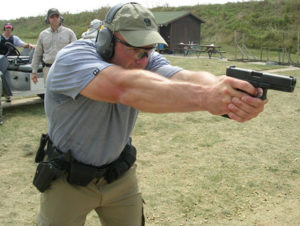 OK...let me get this out of the way right off the bat. I carry a Glock pistol during about 95% of my waking hours. My police duty gun is a Glock 21 in .45acp.

www.activeresponsetraining.net
I don't train nearly as much as what Ellifritz's teachings see each year, but I do attend my fair share of training classes, and I've seen multiple episodes of fellow students' Glocks fail at these very same areas (and no, they were not modified). Similarly, it is precisely because of his -as well as other Glock Armorers'- experiences that I service mine and my daughter's Glocks at the intervals that I do. "An ounce of prevention, right?"
By far the most attrition I've seen in any single class was in Chris Costa's HE01/02 series that I took in the summer of 2012. A Sig Blackwater cracked its slide. A Gen4 Glock that lost its slide lock during live-fire (a Gen3 also went down - of the couple of friends of mine in the class, none of us remembered the reason). An HK-45 Compact and a STI 2011 each suffered a bent ejector, while a SA single-stack 9mm Loaded's ejector came loose. An XD40-SC sheared off its front barrel lug. An active-duty police-issue M&P 9 suffered a genuine slam-fire after too much dirt entered it over the duration of the class (as diagnosed on-site by Doug, of ATEi)
Any man-made object can -and will- fail. Just leaving the component alone won't guaranty that it will not, be it through use or due to a factory/production defect.
Similarly, using aftermarket components may or may not delay, induce, or even accelerate time-to-failure.