Weekend Obama/Economy/Safe Cleanout Weekend Special - $200 Shipped for Scope, Rings and Covers! Read on...
I have a Burris 4.5-14x42mm scope with adjustible objective for sale. I bought it new about a year and a half ago. I bought it as an upgrade from the Simmons scope I had on my 20" AR-15 varmint rifle, but then I sold the rifle and the scope has been sitting in my gun safe ever since. I put less than 100 rounds through my AR-15 with this scope on it, so the only recoil it's ever seen has been 223 Rem through an 11-lb semi-automatic.
Here's a link to the exact scope model:
Burris Fullfield II 4.5-14x42 Plex Black Matte Parallax Adjustment Riflescope 200181 with Free UPS Ground! -
It's got a matte finish and the plex reticle.
I also have a set of serious Burris XTR 1" extra-high rings. Perfect for an AR or bull-barrel varmint gun. Each ring has 6 torx screws holding the top and bottom half together and grab about an inch of scope tube each. They're pretty serious. These rings go for $40 to $50 online.
This scope also has a set of Butler Creek flip-open scope covers on it, with the flip-open bell cover and push-button ocular cover. That's another $15 or so.
Here's the only pic I have of it on my gun, but I can take close-up pics if anyone needs them. This scope is as-new and there's not a scratch on it, except maybe the usual blemishes underneath where I mounted the rings (I haven't removed them from the scope). If they're there, you definitely can't tell by looking. You'd have to remove the rings.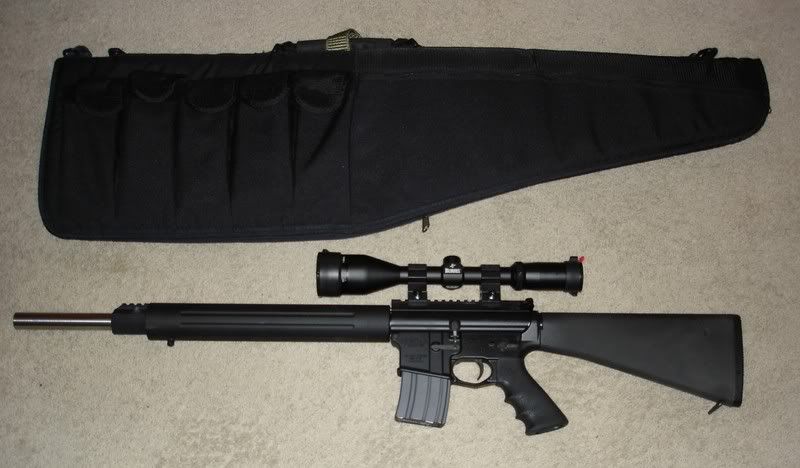 If you have questions, let me know. I'm asking
$275
shipped for the scope, rings and lens covers. I can also sell the scope without the rings for
$250
. Shipping will be via USPS priority, insured. This is over $100 less than the package would cost new.
Thanks for reading. I've sold and bought lots of stuff through this site, and I'm pretty sure I'm listed in the "Good Guys" sticky thread at the top of this page, so buy with confidence.