The American Pistolsmiths Guild has stepped in with their Seal of approval, to help consumers choose quality gun parts. This is much like what the ASE has done for the auto world.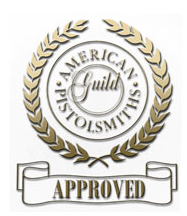 Link:
http://www.apgsealofapproval.com/


We are pleased to announce that several of our products, to include our Ultimate line of trigger kits, have earned the American Pistolsmiths Guild Seal of Approval.

PRP~ XD & XDM Perfection!