Discussion Starter
•
#1
•
So I'm in the process of my first build, and I want to go with a Magpul stock (naturally). I've seen "kits" with the buffer assemblies included but the setup I've seen runs 150 before shipping. I'd been looking for JUST the buffer tube assemblies, but I've found stocks that are actually cheaper than doing that. So, I need some advice.
I realize these stocks are pretty crappy, but I don't really care since the stock is getting replaced. Here's what I've found...
This is a 6 position tube, and after shipping comes to about $50... which is $10 less than the only real place I've seen offer JUST the assemblies (AIM, which is out of stock)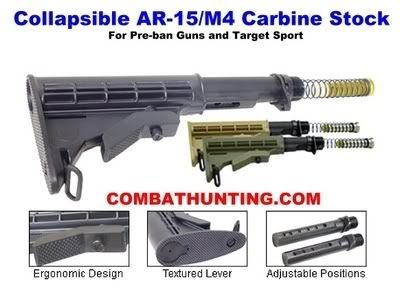 This one has a 4 position tube (you can see the positions of the holes in the first picture) and is $35 after shipping, which is way less expensive than anything I've found.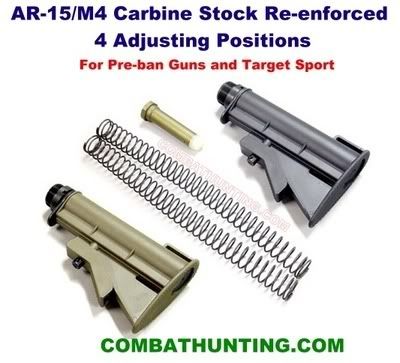 It doesn't say if they are mil-spec or commercial, but it doesn't matter that much since the CTR comes in either. So my questions are:
Is there much quality difference in tubes and buffers? Would these be about the same quality as others? I know a lower is a lower is a lower... is a tube a tube and a buffer a buffer?
While I'm putting a bit into this build, I'm still a college student and trying to save where I can. Assuming these tubes are fine, is it worth an extra $15 to have 6 positions opposed to 4? It looks like the extra positions are in close. I'm not that small so I don't know if those shorter positions are really that necessary. Thanks a lot, I definitely appreciate it all!